Welcome to

HOMEFINDERS-BANGKOK


PROPERTY GUIDE
For the same price as a Luxury Condominium, people can buy a house and land which provides both comfort and a long term investment, however this is not always possible. Foreigners in Thailand can own only purchase apartments. The funds (money) required to purchase an apartment must come from abroad in foreign currency and the buyer must also obtain a Tor Tor 3 certificate from the receiving bank which he will have to show the land dept before transfer of title. It is advisable to consult your Bank Manager or lawyer before transfering any funds.

A Thai lady legally married to a foreigner, can now own and more importantly register property in her own name. If she married a farang some years back, Thai Law precluded her continuing to own either Land or a House in her name after that marriage was legally contracted. So that would tend to indicate that perhaps the marriage wasn't fully Legal or the land title slipped through a bureaucratic loophole somewhere. Anyway this unfair law was recently amended, so a Thai wife can now legally continue to own land or a house which she owned before the marriage without fear that the authorities may negate the title if ever she tried to sell it. Similarly a Thai lady legally married to a farang can now own and more importantly, register property in her own Name.

A foreigner cannot own a house, land or property in his own name no matter what. It is circumstance driven...He must do it through a Juristic Person [Company] or his legal Thai Wife. A foreigner may legally purchase, together with his wife, a house, land or property which shall be duly purchased as marital property [Parties legally married and documented at local Amphur]. This purchase cannot exceed 1 Rai and is jointly held and cannot be sold without the other partner's signature, nor can either force the other out of residence without due compensation. His name will never be on the actual Title Deed, but a Memorandum is attached indicating his attachment to the owner. Extended lease rights can be enjoyed in most cases where such rights are registered at the local land office and agreements exist between concerned parties by Leslie Wright. Leslie Wright is Managing Director of Westminster Portfolio Services (Thailand) Ltd., a firm of independent financial advisors providing advice to expatriate residents of the eastern seaboard on personal financial planning and international investments. If you have&nbsp any comments or enquiries on this article, or about other topics concerning investment matters, contact Leslie Wright directly by fax on (038) 232522 or e-mail at: westport@loxinfo.co.th. Further&nbsp details and back articles can be accessed on his firmís website on www.westminsterthailand.com.




PREVIEW

Visitors to this web-site are assured that any enquiries which they may have will be dealt with by humans, and not credit card munching machines with automatic responders for enquiries, like some of the big commercial web-sites.

Now that you have seen the services we have to offer, we hope you have spent a little time browsing through our linked pictures above which are worth a thousand words, if not have a peep. Are you looking for a nice home to rent or buy in the city or country, maybe a peaceful apartment at the seaside to relax during your visits here?

We offer many choices and locations that may suit your requirements in many parts of Thailand, If you can't find what you are looking for, or you think we may not have it, drop us a line, we are always pleased to reply and help in any way we can, remember our services are always helpful, honest and free! to anyone looking for properties to rent, purchase, or relocate in Bangkok and the surrounding areas.








LIVING IN A RELAXED NATURAL ENVIRONMENT
What are we looking for when we plan a move to a new home due to job relocation or other circumstances? I would guess a nice homely and comfortable place which has everything we require, close to a shopping center where we feel safe and secure, with family and friends not too far away
Sometimes we get so absorbed with the luxuries of life within a modern city apartment that has all the mod cons needed to suit our lifestyle, we tend to forget our health and environment around us. It is also very important to seek a clean environment, with nice pleasant surroundings, low noise & dust levels, with lots of greenery & trees to supply much needed oxygen, and absorb all the carbon dioxide which increases daily due to pollution & deforestation.
If you require these qualities in a future home, we have listed two such places in North Bangkok, one situated on the banks of the Chao Phaya River with breathtaking river views on the upper floors, the other fairly close to the "International School Bangkok and the Chaeng Wattana expressway, located in 5 acres of landscaped gardens with lawns, shrubs, trees, and a big pond in the centre. This beautiful apartmentt complex has recently reduced prices by 25% which makes it good value for money
The apartments vary in size to suit your needs, 1 Bedroom 84 Sqm 2 Bedroom 154-168 Sqm, 3 Bedroom 210 Sqm, Penthouses 275-446 Sqm. fully furnished to international Standards with, fitted kitchen, air conditioning in all rooms, plus IDD Tel in all Apts. Facilities include a big swimming pool, two outdoor tennis courts, childrens playground, reading room, poolside coffee shop / snack bar, Cable TV, Maid services and Laundry.
Safety is provided by 24-hour trained security guard patrols and modern state-of-the-art fire protection system. View Photo of Luxury Apts near Airport, with interior and outside garden views, below the Heading "our services" at the start of this Home Page.



ABOUT THE LAND OF SMILES
Many distinguished writers and visitors have written about the Thai people, their culture, their philosophy to life and their warm & friendly manner, hence the name given "The Land Of Smiles."
However as yours truly is not a distinguished writer or philosopher, I will refer you to the many links we have listed about the Kingdom of Thailand http://www.amazing-thailand.com/ is one of the links with a banner below that will give you a very good review on the Entire Country.
The site author has gone into great detail to arrange the site into various groups and sections, where he describes the culture of the country, the people, language, religion, climate, history, economy, festivals, and all relevant information that a visitor should know before visiting a country.
We have over 300 text and graphic Links on our Helpful Links Page to assist you in finding information, plus essential and inportant facts about Thailand. We also have listed on that Page links to many of the Thai Portal Web Sites which yield vast amounts of information about the Kingdom of Thailand.

A Cool Day Out With Bangkok Skytrain
Visitors who were doubtful on returning to the Land Of Smiles because of the very heavy traffic Jams, the time it took to visit various parts of the city, and the pollution which was awful while you waited, can now make a return visit to travel with comfort, and stay cool in elevated mode travel, enjoying views of the City by night & day. Why is that?

Skytrain is here at last, and the hassle of travelling is now over. You can now travel from Mo Chit near Jatuchak Weekend Market, to Soi On-Nut on the Sukhumvit Line, travelling via Victory Monument towards Siam square then swing east to Phloen Chit & Sukhumvit. For journeys to Silom and Bang Rak area change at Central Station near Siam Square to the Silom line.

The journey in this cool, comfortable air conditioned train was very relaxing indeed, yours truly tested the Sukhumvit Line and the time taken from Jatuchak to Soi On-Nut was just 15/20 mins at 2 PM in the afternoon. What a big change from 2 years ago when that same stressful Journey took me 3 hours plus by car, the airconditioned trains were immaculate and tidy, with operations of the same standard as those in big western cities.

On arrival at On-Nut Station, I waited for the automatic doors to open and the hot air blast from outside which caught me was a grim reminder of disembarking in transit from a flight in Calcutta nine years ago, what a difference in the temperature change ! I felt like staying on for a bit longer, but I knew we had reached the end of the line, to taste the hottest day of Summer.

Stations are gradually being added to improve the travelling distance, and we all await the day it reaches the airport for various reasons, plus the airport area is my Home Site. So without further delay in writing, Click onto the Train Photo to get all the Information about the routes, stations, prices etc. If you live in a Hotel or Apt near a station, life can be cool during your holiday or stay.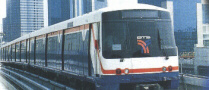 HELPFUL LINKS PAGE


WITH OVER 300 LINKS



WOULD YOU LIKE TO READ THIS PAGE IN THAI FONTS?
Go to Nectec's Web Site for the translation service,
then enter the URL of this web page, Link below.
NECTEC TRANSLATION ENGLISH TO THAI
Tranaslate to other Languages Here







Properties l Holiday homes l Thai lottery l Classfied ads l Helpful links l About us l e-mail us l