Luxury 4 Bedroom Apt, 250 metres from Nana BTS Skytrain at Sukhumvit with full facilities.
In the Land of Smiles, many visitors and expats who live and work in Bangkok, would much rather live in a convenient place where they can travel to work with comfort and ease, their family can travel around the city in a perfect cool mode of transport to do their shopping or visit friends, without the hassle of driving the car.

In the evenings if the cooking chores are too tedious, a short walk to Bangkok's top restaurants nearby is merely a breeze. From our description you may well wonder where on earth are they refering to? Finding such a place to live with our large family in The City of Angels is not possible?

Well your search for such a place will end in this Luxury Apartment approx 250 metres from Sukhumvit Nana Skytrain Station, where all the things I mentioned can be acheived, these are not mere words, a picture tells a thousand words, below they replace four thousand words of text.

The apartment sizes are 400 square metres with 2 units per floor, fully furnished and decorated to western standards with light colours, plus all the facilities one can find in a modern city apt, like direct tel, s/pool, gym, sauna, Cable TV. there is also an international school and very large modern hospital nearby.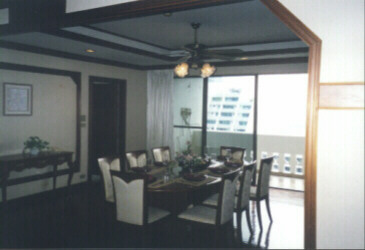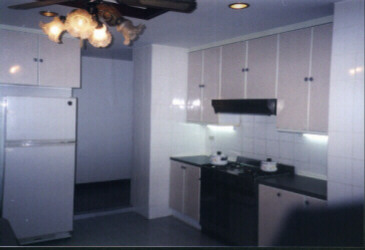 Apartment dining room on east side near balcony. Modern spacious fitted kitchen in light colour patterns.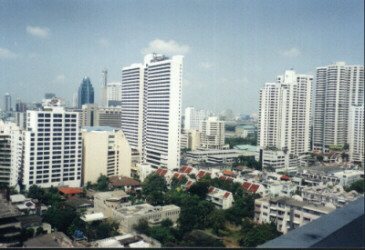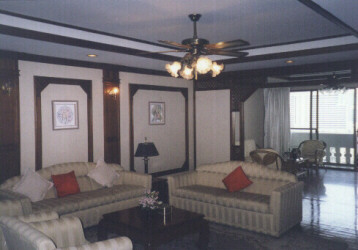 Magnificent view lookin from west balcony of Apt. Large living room with views from either balcony.
A Life of convience and comfort awaits you at this Luxury Apartment in the heart of Sukhumvit.
Rent starts from Baht 65,000 per month on low floors, to Baht 80,000 on the high floors.